Cold Weather Hot Tubbing: Do You Love it or Leave it?
Published : October 15, 2019
Share
The good thing about hot tubs is that they can be used year-round, in any climate – under a roof or out in the open. But when it comes to winter time and it starts getting chillier outside, does that entice you to use your spa more or less?
We want to hear from you! Please add a comment at the bottom of this blog and tell us all about your hot tubbing practices when the temperature drops. Or if you prefer, join the conversation on the SilkBalance Facebook page or send us an email at promotions@silkbalance.com and let us know because we are curious. If you do use your spa in the cold or snow, send us a winter photo of you enjoying your spa and we might share it in an upcoming SilkBalance Blog!
Here's a 1-question pop quiz for you (and there's no wrong answer).
When it's cold outside, do you:
A: Love to use your hot tub more?
B: Stop using your hot tub?
If you chose A, you love all the health and wellness benefits of hot tubbing no matter what the calendar says. You like seeing that steam rise off your hot tub water when you lift the cover. You think it's perfect to be sitting in 100-degree water (38 C) when it's freezing outside and you are toasty warm in your spa. Maybe you throw on a Santa hat and enjoy your favorite beverage and get a kick out of seeing your breath in the cold air. Or perhaps you just love the thrill of the quick temperature change getting in and out of your spa. There's something to be said about being in your bathing suit when it's freezing outside.
If you chose B, you consider your hot tub seasonal – much like a northern outdoor pool. You have enjoyed your hot tub for many months, but when the leaves change color into a new season, it's a signal for you to put the cover on your spa for the next few months. If you are a winter hot tub avoider, do you drain your spa completely? Do you winterize it? Or do you just turn the temperature down and keep the water flowing to help prevent your spa's plumbing from freezing?
Again, choice A and choice B are neither right or wrong. We at SilkBalance just want to get to know your hot tubbing habits.
We will leave you with another photo of a SilkBalance customer who loves using their spa in the winter: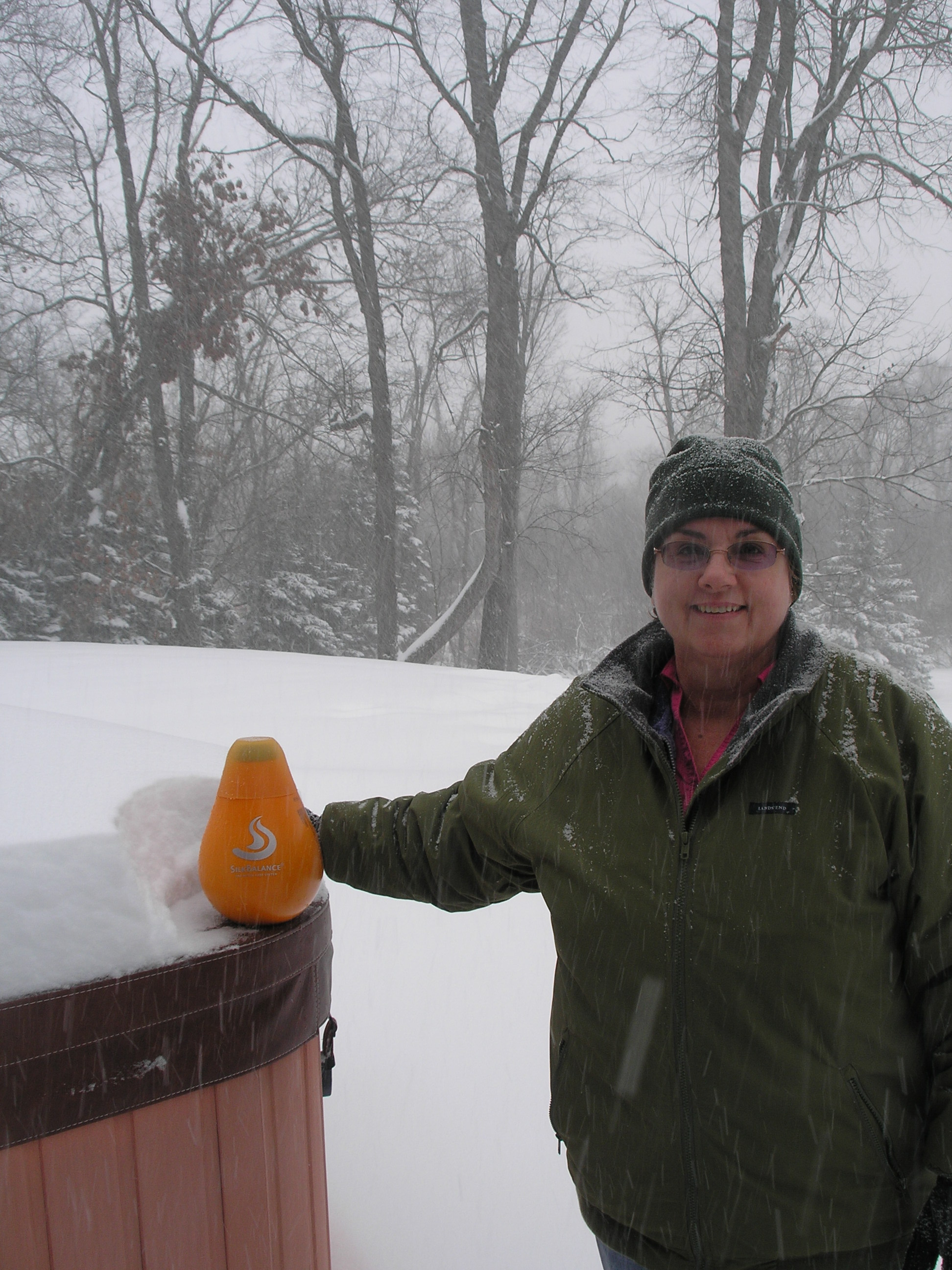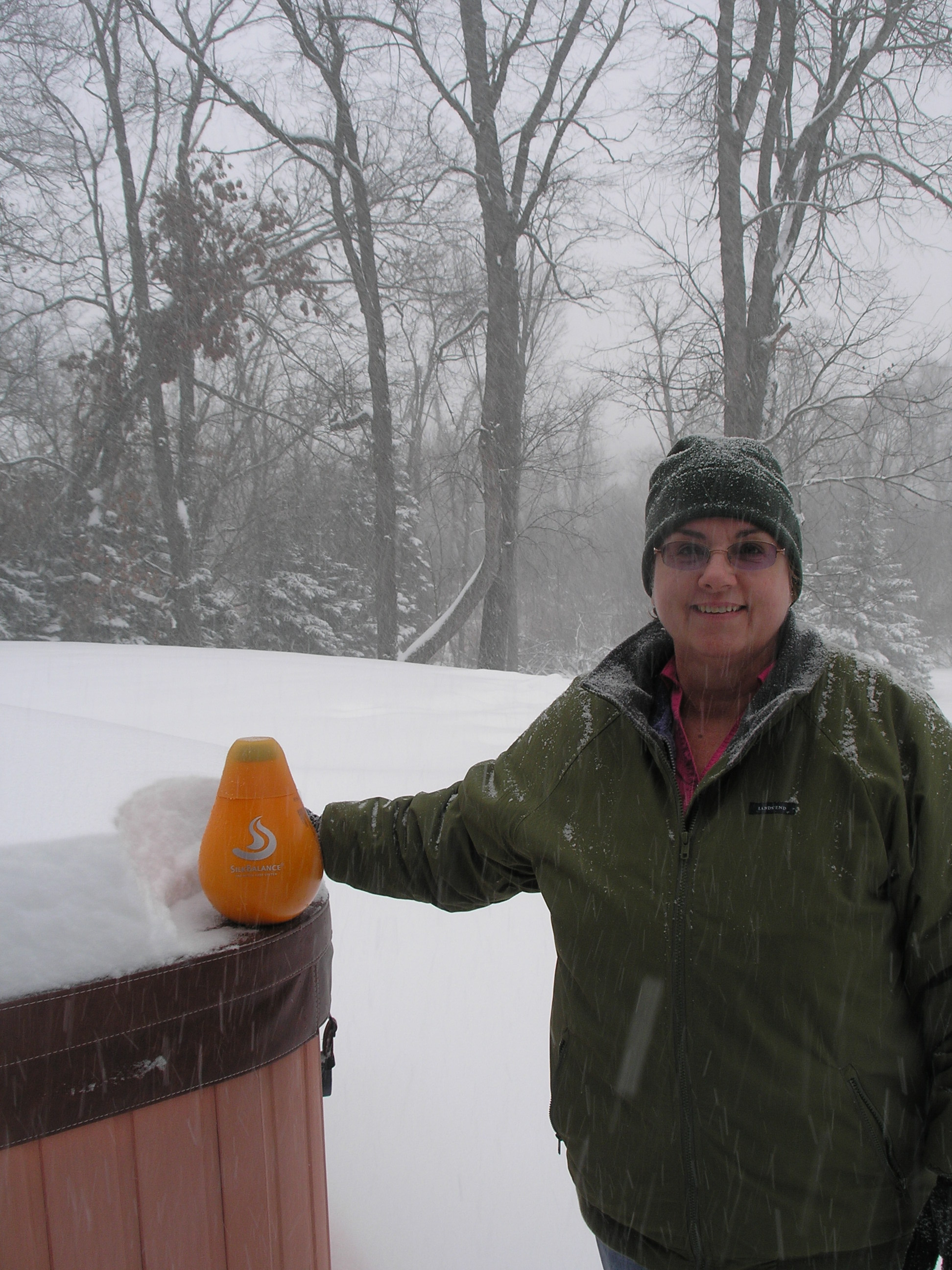 Tammy and Don Socks from Chelsea, Mich.:
We have had our hot tub for years. We recently switched to SilkBalance because we were having so much trouble balancing our water. We spent so much money on chemicals and never had good results. When we started using SilkBalance, we couldn't believe how much easier it was to maintain our water and how clear! Thank you SilkBalance! Switch today! You will be happy you did.
By Eric Vician
Director of Promotions & Key Accounts
promotions@silkbalance.com
4 responses to "Cold Weather Hot Tubbing: Do You Love it or Leave it?"